To Share Bibles & New Testaments .MP3 Audio Free Click the Box.com links: also see: http://gospelgo.com/bibles.htm & http://audiobiblesfortheblind.org
TS 2009 Audio and PDF Bible: At the Foot of the Covenant Ministries
KJV (English), Tamil, Urdu, Punjabi, Hindi (India), Korean, Vietnamese, & WEB (English)
1st >> https://www.box.com/s/6x7j136x0c3y3j74l40k
Bhojpuri, Cantonese, Cebuano, Finnish, Gujarati, & Malayalam Bibles
2nd >> https://www.box.com/s/ad7d3yd8u9uqc161kw8o
Hebrew, Japanese, Marathi, Portuguese, Russian, Shona, Thai, Tagalog, New Testaments; and Arabic Bible
3rd >> https://www.box.com/s/3awc37f6bfaunnqc1ohi
Feel free to Share, email, or download and copy & paste to a USB drive to pass around! Over 1+ GB uploaded each hr = 171+ eBook bibles, 2+ New Testaments, or 1+ Full Mp3 Bibles and growing exponentially; Praise God! Rejoice in the Lord always: and again I say, Rejoice. (thousands receive God's word each day as we follow the leading of the Holy Spirit in Prayer and Share the Gospel in unity, Worshiping in Spirit & Truth while uploading and sharing in person with our neighbors along His Way too)
Philippians 4:4 Thou hast increased the nation, O LORD, thou hast increased the nation: thou art glorified: thou hadst removed it far unto all the ends of the earth. Isaiah 26:15
To Share download a torrent downloader like http://www.utorrent.com/ make sure it is open/running then perform an online search for open source torrent files that are available from Scrapers like isoHunt, Limetorrents, 1337x or see this link for RIVR an open source torrent search engine. https://github.com/algoprog/rivr-search
Know ye not that they which run in a race run all, but one receiveth the prize? So run, that ye may obtain. 1 Corinthians 9:24
(For uploading from a USB drive >> http://www.tixati.com/download/portable.html or see >>>http://www.makeuseof.com/tag/forget-pc-download-torrents-android … for downloading from your phone) Then download the torrents and open them with/drag and drop them into utorrent. I've heard http://transmissionbt.com/download is a good application on Apple Products like a MacBook or an iMac.
But the more they afflicted them, the more they multiplied and grew. And they were grieved because of the children of Israel. Exodus 1:12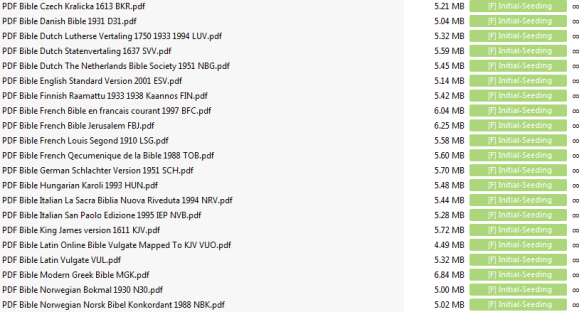 +Some Also available+ (w/ email registration http://www.faithcomesbyhearing.com)
Audio Bible – Gospel of Luke in 51 Languages – MP3 AudioTreasure.com
People from all over the world are downloading these throughout every moment of each day but (Galatians 6:9 Let us not grow weary in well-doing,for in due time we will reap a harvest, if we do not give up. http://bible.cc/galatians/6-9.htm) 勝って兜の緒を締めよ (katte kabuto no o o shimeyo) Tighten the cord of the helmet to win!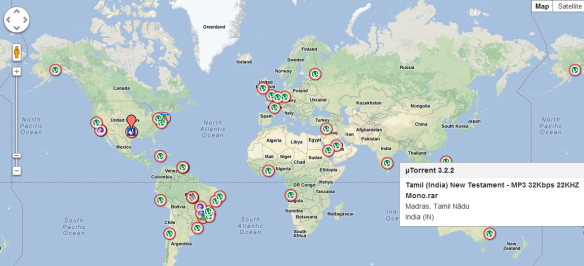 And this gospel of the kingdom will be proclaimed throughout the whole world as a testimony to all nations, and then the end will come. Matthew 24:14 יְהוֹשֻׁעַ ("Yĕhôshúa" – Joshua) Names of God https://www.youtube.com/watch?v=T5-6gwssX0Y
Intro (Unrehearsed Holy Spirit Lead Outdoor Worship & Scripture Reading) Youtube Playlist
Music and Audio Bible Chapters to listen to and help create a Outdoor atmosphere to introduce everyone to the blessing of a relationship with God (Yahweh) through the Holy Spirit in the mightiest Name of Jesus Christ (Yeshua)
List of countries that people are seeking out the Word of God and Jesus Christ though the guidance of the Holy Spirit  (To our God and Father be glory forever and ever. Amen. Philippians 4:20 )

Qatar
Antigua and Barbuda 
United Kingdom 
Brazil 
Trinidad and Tobago 
Congo 
Australia 
South Africa 
Canada 
USA 
France 
Jamaica 
India 
Philippines 
United Arab Emirates 
Ethiopia 
Vanuatu 
Latvia 
Argentina 
Turkey 
Singapore 
Mozambique 
Romania 
Botswana 
Hong Kong 
Spain 
Ukraine 
Israel 
Greece 
Croatia 
Honduras 
Belgium 
Brunei 
Netherlands 
Saudi Arabia 
Austria 
Sweden 
Malaysia 
Vietnam 
China 
Hungary 
Kenya 
Russia 
Zambia 
Germany 
South Korea 
Jamaica 
Thailand 
Cameroon 
New Zealand 
Nigeria 
Pakistan 
Indonesia 
Kuwait 
Zimbabwe 
Norway 
Paraguay 
Slovenia 
Slovakia 
Ghana 
Lebanon 
Ireland 
Poland 
Ivory Coast 
Finland 
Angola 
Italy 
Venezuela 
Yemen 
Malawi 
Egypt 
Mexico 
Guam 
Tanzania 
Switzerland 
Vanuata 
Luxembourg 
Mauritius 
Bahamas 
St Vincent and the Grenadines 
Colombia 
Grenada 
Belize 
Uruguay 
Barbados 
Denmark 
Haiti 
Chili 
Guyana 
Namibia 
Taiwan 
Peru 
French Polynesia 
Burkina Faso 
Puerto Rico 
Japan 
Dominican Republic 
Mauritius 
Albania 
Algeria 
Cambodia 
Uganda 
Bahrain 
Gabon 
Bulgaria 
Saint Kitts and Nevis 
Aruba 
Togo
Iran 
Bangladesh 
Oman 
Rwanda 
Mali 
Morocco 
Bolivia 
Senegal 
Costa Rica 
Nepal 
Bosnia and Herzegovina 
Czech Republic 
Guatemala 
Benin 
Cyprus 
Sri Lanka
Afghanistan 
Europe 
Liechtenstein 
Estonia 
Saint Martin 
Belarus 
Russia 
Moldova 
Nicaragua 
Serbia 
Swaziland

"He that is not with me, is against me: and hee that gathereth not with me, scattereth abroad."  Matthew 12:30 (KJV)  via ✟ https://www.kingjamesbibleonline.org/1611-Bible/  ✟ 
27× 32× 53
He will wipe away every tear from their eyes, and death shall be no more, neither shall there be mourning, nor crying, nor pain anymore, for the former things have passed away." Revelation 21:4 Κύριος ὁ Ἰησοῦς Χριστός Jesus Christ is Lord רוח יהוה רוח הקודש
木材 ダニエル ジョーダン Jordan Daniel Wood 970.387.8422 (Original post published 3/7/2011 updated 9/14/2019)